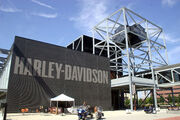 Wisconsin is home to the Green Bay Packers, cheeseheads, beer and brats.
Milwaukee is for sports (Brewers and Bucks), music festivals (Summerfest), beer and brats. It's also the headquarters of motorcycle king Harley-Davidson. (See articles on Man Tripping: "Visiting Milwaukee for a Great Guys Weekend," April 4, 2011; and "Milwaukee Harley-Davidson Fly, Buy, Ride," June 15, 2011.)
Ad blocker interference detected!
Wikia is a free-to-use site that makes money from advertising. We have a modified experience for viewers using ad blockers

Wikia is not accessible if you've made further modifications. Remove the custom ad blocker rule(s) and the page will load as expected.