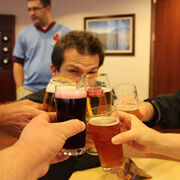 Mancations in the Show-Me State
St. Louis
"Breweries, BBQ and Baseball, a St. Louis Mancation" (Man Tripping, Dec. 26, 2011). Article includes Budweiser brewery tour, Busch Stadium for baseball, Schlafly Brewery, Urban Chestnut Brewery, Pappy's Smokehouse for St. Louis-style ribs, Lumiere Place Hotel & Casino, and a visit to the St. Louis Arch.
Ad blocker interference detected!
Wikia is a free-to-use site that makes money from advertising. We have a modified experience for viewers using ad blockers

Wikia is not accessible if you've made further modifications. Remove the custom ad blocker rule(s) and the page will load as expected.