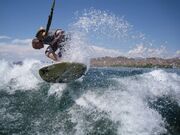 Things to do in Arizona, the Grand Canyon State.
ManCation Nation in Parker, Ariz., offers "extreme water sports" (water skiing, wake boarding, etc.), tactical weapons firing, as well as golf and fishing.
Cactus League baseball.
Grand Canyon National Park
Ad blocker interference detected!
Wikia is a free-to-use site that makes money from advertising. We have a modified experience for viewers using ad blockers

Wikia is not accessible if you've made further modifications. Remove the custom ad blocker rule(s) and the page will load as expected.